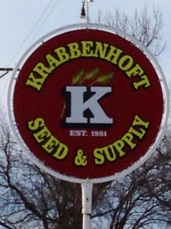 Krabbenhoft Seed & Supply is a third generation dealership and as such we are committed to uphold our prestigious reputation. We will provide you with current up to date information on agricultural news and market information. We will also guide you to the best fitting variety for your unique growing conditions and keep you up to date with program deadlines on different products.


---
"Since 1964, Purdue University has recorded more than 800 cases of flowing grain entrapments. Many, if not most "non-fatal" incidents go unreported. The U.S. averages 15-20 documented entrapments per year based on 40 years of data. An estimated 55% of documented grain entrapments result in death. Based on historical data, roughly 70% of the documented entrapments occur on farms. "

Click on the link below to be educated on grain bin safety.

Consider Reconditioning Too Dry Soybeans and
Other Grains
Click the link on the chart above to view the article from NDSU





---

A university of Oregon spinout company has 'accidently" discovered new technology that will allow farmers to wirelessly detect nitrate levels of soil in their fields! According to the article posted by Ag Professional,

"The researchers say the value proposition to their sensor product is the reduced time-to-data it offers farmers. Designed to mimic plant roots and be buried in the soil just below root level, the sensors provide real-time data about soil nitrate levels so farmers can immediately make adjustments to fertilizers and irrigation (applied together, this is called fertigation).
"Currently, obtaining this type of data requires taking multiple soil samples, which involves a lot of labor, and then the wait for lab results," Carroll said. "Our technology's real-time data would enable highly site-specific management of fertigation."."



---